Here's a roundup of restaurant reviews that caught our eye in Lagos: 
— Peju The Critic returns and reviews the new Casper & Gambini's: "I was really looking forward to the white fish fillet (N5800- $19). I took a look at the plate and I was disappointed. The fish looked oily for starters. On tasting this, EVERYTHING was wrong with it…The manager came to our table and apologised and offered me something else but I declined. It just ruined all the nice things I had eaten." She adds: "We ordered the crunchy profiteroles, the trio chocolate mousse and warm molten tart. When the desserts came, I quickly forgot about the fish because it all looked nice."
— Tuke's Quest does romance with Seafood Okra at Yellow Chilli and loved it: "Ambience wise, not the best for Valentine's day. No romantic music, loads of children and families around, not as cosy as it could be. This glass of red water was the only thing there to show it was Valentine's day. Maybe next time, give us heart shaped chocolates or red balloons, just something cute." She adds: "Like I said, I got the Seafood Okra. It was soooo soooo good, apparently I was rushing it like someone who hadn't eaten for 3 weeks"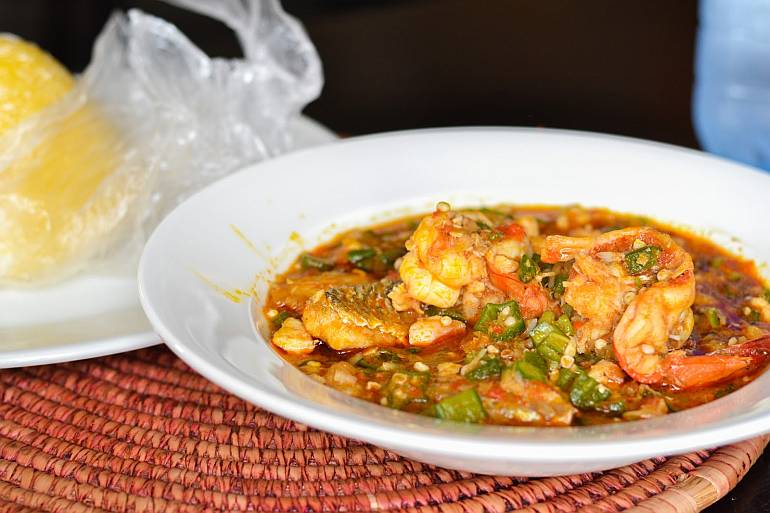 Photo Credit: Tuke's Quest
— Foodie in Lagos tries BLD's famous buffet and leaves some advice for the chef: "The presentation of the meals were great but it just lacked any wow factor. The supposed lamb ribs were just fleshy and made it seem like it was chicken and was not fresh. Y's steak wasn't tasty and wasn't generous in size and the carrots were not well boiled or steamed. The chef should take proper time in marinating as steak and lamb are quite thick."
— Simi at EatTechTravel finds sushi at Fusion is just OK: "I was expecting [the portion] it to be big like the ones at Izanagi but it was very small. We had to order more because it wasn't filling at all. So we ordered more (California Sesame and Crazy Crispy)." She adds: "It didn't taste as good as that of Izanagi but it wasn't bad either."
— EatDrinkLagos' endures an awkward experience at Eat Green Company but will try again: "The food took too long, the waiters were terrible, and they messed a couple of orders up. Eat Green definitely has potential because the concept alone stands out. The menu could be streamlined a bit to avoid all the 'we don't have it now' talk, however. I'll give them another shot in a month or so. Hopefully, it's better."
In case you missed this previously, Omnomlagos pulled together 12 things restaurants in Nigeria should stop doing in 2016.